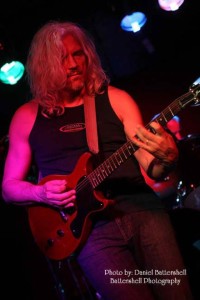 Jerry Jennings began as a rock guitarist in the early 70s as a teen, self taught, and influenced by Mark Farner, Richie Blackmore, Jimi Hendrix, Eric Clapton, Terry Haggerty, Roy Buchanon, Jeff Beck, and many others. His first working band was a country band in Germany, 1978, playing the military bases, while stationed in Bamberg.
Leaving the army in 1979, Jerry made the decision to only do music for a living, and began living the life of a nightclub musician, playing mostly covers. Parting from the use of alcohol in 1986 seemed to take some of the pleasure out of that existence, so he built a recording studio, and also began teaching, while cutting down on the late nights.
From 1993 through 2006, Jerry released three albums in the prog/jazz-rock fusion vein, the third of which was produced by the now late Ronnie Montrose. During the same time period he also began writing instructional books, and now has six titles, the latest titled, "Triad Magic", which is a chord theory book for guitarists.
Currently Jerry focuses on mainly on three areas:
1. Writing for film and tv, with a growing list of placements.
2. Perfecting the craft of contemporary country songwriting.
3. Recording an album with his brothers, Gene, Mike and Bob, called, "The Jennings Brothers Band", which reaches into the insane prog world, which Jerry himself is known for, and also into some country rock areas.
Jerry's studio is equipped to do lots of types of projects, armed with plenty of acoustic stringed instruments, quality mics, and preamps.