Mad Guitar Records – Melodic Soloist (cd)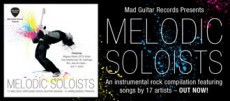 SHRED ACADEMY – Guitar News & Reviews
Review 02.19.2010 by Guy Onraet
ALBUM REVIEW – MELODIC SOLOIST COMPILATION
With all the technically astounding guitar playing happening today, the inherent musicality of guitar playing is often sacrificed. Mad Guitar Racords debut release, Melodic Soloists, is a showcase of highly skilled modern guitarists delivering emotive, melodic and groovy guitar driven rock music.
The compellation features both recent releases as well as unreleased tracks. Every artist brings their own uniqueness to the record, which is not only about highly skilled guitar playing but also catchy and emotive instrumental songs that anyone can enjoy. Let's look at the tracks:
Epic – Mr. Fastfingers
An intense acoustic intro gives way to rocking riffs and eastern European, Oriental and other world sounds, look out for the flute solo. The main guitar solo has a huge sound, while the overall production quality is excellent.
Danse Pauline Danse – Stephane Dufour
Classic rock riffs, great tone, interesting chromatic ideas, a straight up rocker. Definitely one to get your foot stomping and your head bopping.
For You – Jose de Castro
A great bluesy number, Jose's strat tone is awesome. The verse section has a cool 7/8 groove, with the overall vibe of the track being laid back but rocking. The solo fits the track perfectly and has some very tasteful phrases.
Power Lane – Magnus Olsson
The first of 6 previously unreleased tracks kicks off with an atmospheric intro featuring a clean guitar and a cool fretless bass. More in fusion territory, this tribute to Shawn Lane has some very interesting lines, an awesome tone and Magnus's trademark smooth legato runs.
Finding the Edge – ED To Shred
Previously unreleased and blasting off with an interesting filter and wah laden intro, Dean Shred Search winner ED To Shred brings the big arpeggios and crazy picking runs, while the rhythm section allows the guitar to really shine.
Heat – Roo
The first thing about this track is the clarity of the production. Every instrument has its perfect place in the mix, making it a joy to listen to. Roo has some rocking riffs, a big tone, an interesting motif, very cool breakdowns and the driving bass line keeps things moving well. No lack of shred skills here either.
Space Anthem – Tony Smotherman
Opening with a funky bass line, the motif is straight from the school of Steve Vai. Tony is making a great name for himself at the moment and his astonishing technique makes his success well deserved.
Rule 14 – Jerry Jennings
This track from Mr. Jennings has a wonderful chilled out vibe, a great fusion tone, fantastic fusion ideas with blues, rock and jazz flavours, and a great musical sense. Production is top quality and all the instruments are very clear in the mix.
Glue Trap – Porty
An intro of changing through different TV channels, this track is very uplifting with a driving rhythm. The cool bluesy shred ideas are kept fresh with elements of fusion. I really enjoyed the hugely emotive solo and cool prog elements of the outro.
Sombre el Agua – Frederico Miranda
My favourite track on the album, and indecently, also the slowest. While essentially a ballad, there are strong elements of prog and fusion. Frederico has a great touch and incredible feeling in his playing. He has an interesting choice of notes and of course, massive amounts of shred ability when the need arises.
The Grind – Scott Allen
This is one big rock track. The heavy blues phrasing has to have been played while pulling a crazy "bent face", and the crazy picking and tapping during the solo create a fantastic climax to the track.
Feel the Breeze – DIP
Another previously unreleased track, this one has some fun chromatic ideas, a cool break with a string section and a stinging lead tone.
Funky Satellite – Karmattitude
This fantastic track shows a great use of arpeggios and has very clean lead tones. There is an excellent climax at halfway, an insane guitar – synth solo trade, and an emotive piano section. Furious playing all around.
Atomic Blues – Ponch Satrio
Yet another previously unreleased track, this one delivers an interesting combination of shred and blues with great bluesy tone, a very catchy head and no lack of advanced guitar skill.
Fall From Grace – Kris Barras
This slightly faster ballad is also previously unreleased. Kris plays with a lot of feeling and has awesome skills. The cool harmonized guitars, interesting tapping section and sweet scalar runs in the last solo all make up a great track.
On The Road – Guitarsnake
The rocking wah intro and solid rhythm section make up a great song for long drives, while the excellent outro solo trade and harmony make it an exciting ride. Lookout for the crazy V8 engine making its own music at the end.
Insideout – Rick Graham
Rick has an awesome tone, great feel, and wonderful note choice. With a 6/8 time signature, this emotionally charged track exhibits amazing shred skills, a very interesting guitar and synth harmony section and a huge shredding outro solo.
Mad Guitar Records is dedicated to producing original guitar material and supporting the finest in instrumental music. With a strong focus on guitar fans, Mad Guitar Records strives to offer attractive prices along with album extras such as picks and stickers with all CDs.
VIRUOSITY ONE – MELODIC SOLOISTS
Review 03.21.2010
VARIOUS ARTISTS – MELODIC SOLOISTS
Instrumental guitar music is a market which arguably saw its heyday back in the 80's with the Shrapnel label. Since then even that famous brand have more or less closed their doors to new talent with only the likes of Mascot Records, Lion Music and the now defunct Liquid Note Records pushing the genre with any real gusto. Now however instrumental artists have a new label to try and get noticed by – Mad Guitar Records.
The labels debut release is a 17 track compilation entitled Melodic Soloists. Unfortunately to general public at large most names are going to mean nothing with the only notable exception being Tony Smotherman and Magnus Olsson, however don't let this put you off as the music on offer is inherently listenable, well executed and the running order of the compilation well structured. Such is the nature of the genre and its limited appeal means some areas are generally cut and in this case some of the productions are a little demo/home studio no doubt due to small or no budget at all. That said even then the music is enjoyable.
The main highlights come in the guise of opener 'Epic' by Mr Fastfinger which shows real individuality and is a intriguing composition. Other strong tracks are found in the funky bluesy "For You" by Jose de Castro, the Satch like groove of "Heat" by Roo , the smooth 'Rule 14' by Jerry Jennings (produced by Ronnie Montrose no less and a production highlight too) and the melodic cool of closer 'Insideout' by Rick Graham. That said, the rest is perfectly acceptable even if a lot is quite faceless overall.
My biggest gripe with the album is the guitar tones with little variation in a number of tracks which suggests either everyone is chasing the same tonality (and that seems to be Satriani inspired), this also maybe one of the reasons the above song stand out over the rest as they do feature more individuality in this area of presentation.
Overall Melodic Soloists is a nice listen, yet there is nothing truly mind blowing and nothing to suggest that the next axe hero is contained here. For a debut release from a label that is obviously not worried about following trends but striving to push artistic creativity (and for that we salute you) it's a solid enough and enjoyable start and we hope to see the label grow from here.
SHREDAHOLIC.COM – MELODIC SOLOISTS
Review 03.11.2010 by Richard Baines
Mad Guitar Records – "Melodic Soloists" – Album Review
Just… wow. Here is one shred guitar album I've been wanting to hear for quite a long time; something full of instrumental tracks that not only do well without vocals but really keep me 100% hooked for the entire duration of the CD. Mad Guitar Records have had an advantage here in being able to choose the best tracks from a whole host of different artists, but that doesn't take anything away from their achievement. A careful selection of artists and tracks that blend well together and an ordering that makes the change in artist behind the track seem almost seamless, for me they've nailed what it takes to become the definitive shred compilation CD.
There are so many tracks (17 in total), discussing each one in limited detail would be a pointless exercise so I'll try discuss the general vibe of the album and the production qualities, with a few mentions of tracks that really stood out.
Production on the CD is top notch, inside and out. From the perfect packaging courtesy of MGR, to the clean, well audible and not over compressed mastering, everything about the CD screams "big budget", which is quite unusual in our small shred guitar niche and a pleasant surprise to see this. The fact that so many artists have collaborated on it doesn't show, and the standard in sound quality is not only consistent but congruent throughout the album.
If I had to describe a general musical theme as emerging from the CD, I'd say its a very forward focused shred album that doesn't dwell too long in showing off technique or replicating famous styles of the past. You won't find anyone trying to imitate Yngwie Malmsteen on the CD, on the contrary, all the musicians featured have either focused on creating their own style, or merging virtuoso guitar with upbeat 'pop' sounding compositions to good effect. The word melodic is key here, if you love melodic rock or melodic guitar playing, etc, you will love this album.
One of the most notable tracks is 'Epic', which as the title describes, is a track of epic proportions. The guitar playing courtesy of Mr. Fastfinger, is slick, distinctive, original and highly melodic, and the composition is fantastic; already I would call this one of my favourite shred guitar tracks of all time (and that's not something I'd put in print carelessly).
About a third of the album's tracks are unreleased, and one of the most original of these is ED To Shred's 'Finding The Edge'. It uses what sounds like a talkbox in the riffing guitar sections quite creatively, and it makes great listening. Even Roo from Mad Guitar Records makes an appearance on the album himself with his track 'Heat', an upbeat melodic track with a superb use of fluid legato guitar in both writing catchy hooks and also impressively fast fills.
You may have noticed Shredaholic favourites Scott Allen and Rick Graham are on the album, with Scott supplying one of his best tracks from the album "What Lies Beyond Words", and Rick contributing a brand new track that's quite frankly, stunning – I've heard a lot of Rick's work and this is his best to date.
It feels unfair that I've not mentioned every artist by name, as they certainly deserve it – every single track on this album is undoubtedly one each artist must be particularly proud of, as they're all just so damn good! Of the artists I'd personally never heard of before listening to Melodic Soloists, you can guarantee I'll be trying to find out more about them this month.
I'd actually go as far to say that if you're visiting Shredaholic.com, then there's a really high chance this is the perfect album for you. There is such a range of different accomplished shred guitarists on here, and different musical styles, that if you can't find a few tracks you like then maybe you aren't a fan of shred guitar! This is now the album I'm going to be playing to correct someone next time they make an assertion shred guitar is just technique over melody, because this album proves that to be completely wrong. There's more well crafted melody in here than I've heard in 90% of albums in the entire genre of rock, instrumental or not, so it's not hard to see why this album is currently at the top of the sales charts on the sites that sell it right now. Shredaholic's verdict? Go out and buy it now!
NEWS & NOTES
Review Spring 2010
Mad Guitar Records
More ingenious than mad per se, the 2010 CD release of Melodic Soloists compiles a roster of American and Euro guitar shredders over 17 tracks mostly recorded between 2006 to 2009. One of the best tracks on this multi-artist CD, "Power Lane" (A Tribute To Shawn Lane) features guitarist Magnus Olsson on a dynamic sonic jewel that the late Shawn Lane would no doubt have loved. Released by the Finnish based Mad Guitar Records, the Melodic Soloists CD is filled with instrumental, guitaristic power rock and metallic jazz-rock fusion and would make a fine addition to the music libraries of fans of Steve Morse, Steve Vai, Jimmy Page and assorted guitar heroes from around the globe. The 70+ minute CD is a great introduction to some rising guitarists and the CD booklet contains links to these guitarists. Maybe too much of a good thing, but if highly charged rock guitar based instrumentals is your thing, Melodic Soloists has you covered.
GUITAR NINE FORUM – WORD OF MOUTH
Review 03.10.2010
Melodic Soloist: Rule 14 – Jerry Jennings
…This track from Mr. Jennings has a wonderful chilled out vibe, a great fusion tone, fantastic fusion ideas with blues, rock and jazz flavours and a great musical sense. Production is top quality and all the instruments are very clear in the mix…