Vintage Guitar Article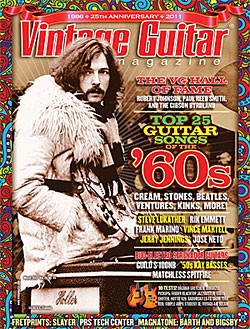 VINTAGE GUITAR MAGAZINE
(March 2011)
Jerry Jennings name on the front cover and a full page article with photo inside.
Jerry Jennings
Not Exactly Deja Vu
Jerry Jennings grew up in an era when the musical landscape was quite varied, and his interests were all over the map. In 1967, he received a Prestige guitar and Penncrest amplifier as a gift for his 12th birthday.
"At the time, I was into Eric Burdon and the Animals, the Stones, the Monkees, Paul Revere & the Raiders, and some surf stuff, too," he recalled. Later, his turn to instrumental music was spurred by Jeff Beck's 1975 album Blow by Blow, which he described as, "…the first guitar album that really captured my attention—he was a rocker expanding into jazzy chords, rather than a jazz player playing through Marshalls." And though Ronnie Montrose released the iconic instrumental effort Open Fire in '78, Jennings didn't know about that album until he met Montrose several years ago.
"I was a fan of the band Montrose," Jennings recalled. "But was more of a fan of (Montrose's later band) Gamma, as it had a more obvious fusion twist. I saw him in Sacramento in the mid '90s with a fusion trio, and thought to myself, 'If I ever work with a producer, I hope it's somebody like that, who understands fusion and knows how to rock.'"
Jennings got his wish when Montrose agreed to produce his album, Shortcut to the Center, an instrumental effort that was recorded in the early 2000s but is just now being fully marketed.
Jennings has been based in Sacramento since 1980, and self-produced two releases, 1992's The Good Part of a Pencil, and 2001's Signs of Humanity, before convincing Montrose to produce his third.
Shortcut to the Center features styles including Latin, fusion, funk, and blues. All of its trackes are melodic, and none land in the dreaded L.A. "Happy Jazz" pigeonhole.
"I really don't know where smooth jazz has gone," Jennings said. "I was a fan of the early Lee Ritenour, Spyro Gyra, and Grover Washington. But once smooth jazz stations started homogenizing it, it lost whatever I was attracted to. That said, I've also never been a fan of serious fusion, such as (Allan) Holdsworth or Chick Corea. I mean…I like a pop melody, but with colorful surprises not typically heard on the radio. And my taste doesn't seem bound by style as much as the philosophy that goes into a composition. What do Kansas' Song for America, Weather Report's Heavy Weather, and Steely Dan's Gaucho have in common? Whatever it is, I'm drawn to it, musically. Complexity meets simplicity."
For Shortcut to the Center, Jennings counted on the neck pickup of a Fender Telecaster for the brighter-sounding passages on "Rule 14" and "The Next Mile." On the remainder of the album, he used Peavey Wolfgang and a parts guitar with a Fender Stratocaster body, Warmoth neck, and a DiMarzio humbucker in the bridge.
To get his tone, he used a 20-watt Doctor Z amplifier, but didn't crank it up…in fact; he went the opposite direction, dialing down the wattage with THD Hot Plate. Accordingly, several songs have a slightly overdrive sound.
"I pretty much always play the same way," the guitarist explained. "I run a low watt amp, overdriven, and a (Ibanez) Tube Screamer out front."
Many of the songs have slight effects that, while noticeable, aren't intrusive; of the tremolo on "Rule 14," Jennings said, "I picture a spaghetti-western movie on the counter melody during the B sections. Ronnie pretty much dialed in the tone, then (adjusted) the effects after the fact."
Weird tones can be heard on "She's," as well. "That's Ronnie's favorite song on the album," Jennings said. "There are two kinds of people—those who like that song best and those who like it least. My keyboard player, Tim Morse, can't stand it. I wrote the song while singing to my daughter in the shower when she was six months old, so it's kind of a children's melody. I added a bridge, then decided to do it on the album. So for a second verse, I wanted a duet kind of thing. I monkeyed with two guitar lines until they seemed to flow. One can certainly never say they are too perfect-sounding. A little on the rough side, for sure, but I liked the rawness, and Ronnie seemed to dig it, too. In mixing, we took the guitar on the right and ran it through a tremolo and a heavier reverb on the one on the left."
The final track, "A dime for the Phone," has a rapid-fire wah effect. "That's an envelope follower," Jennings noted. "I can't remember the brand—Ronnie had a lot of obscure pedals. In my head, I heard polyrhythmic pattern for the intro, and I think Ronnie suggested using the wah sound."
Montrose played guitar on "One Blue Lady," and acoustic guitar on "Observation."
The primary reason Jennings didn't fully market the album had to do with Montrose, who became seriously ill as sessions for it ended. "We weren't really done with it when he got sick," Jennings said. "So I doctored up a few things at home and printed up a small batch. But I never properly released it or even promoted it—just sold it at shows. I always thought I'd come back to it and some more tweaking on it."
Ultimately, he decided the results hold up, so he has re-released the album, and is pleased with the response. Now, he has begun work on another, along with his sixth instructional book titled Triad Magic.
–Willie G. Mosele
CLICK HERE FOR MORE REVIEWS